J NORD VCH N CH N SE UCH NV(F)CH ARBETSVILJANS BJÖRKLÖV – Lynx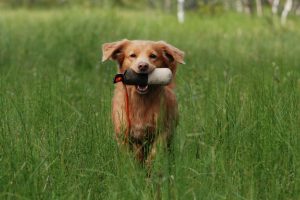 PERSONALIA / DATA
Fødselsdato / Date of birth: 23/05/09
Reg.nr / Registration number: S44148/2009
Kjønn / Gender: Tispe / female
Rase / Breed: Nova Scotia Duck Tolling Retriever
Oppdretter / Breeder: Arbetsviljans Kennel, Anna Fredriksson, Sverige
Høyde / Height: 47 cm
Vekt / Weight: 15,5 kg
HD & AA / HD & ED: AA/00
prcd-PRA & CEA: Genotype A* / Normal/Clear, CEA: A
Øyelysing / eye exam: Eyes clear Jan 2016
UTSTILLING / show
N UCH, N CH, CACIB Norge, 1 x CERT Sverige, 1 x res-CERT Finland.
N UCH, N CH, CACIB Norway, CAC Sweden, res-CAC Finland
JAKT / hunting
N CH, 2 x 1.AK retrieverjaktprøve. 1 x 1.EKL tollingjaktprøve.
N CH, 2 x 1st prize Open class retriever hunting test, 1 x 1st prize Elite class tolling hunting test.
BRUKS / utility trailing
Opprykk til klasse B.
Compeeting in class B (next highest level).
LYDIGHET & Rally / obedience & Rally-o
3. premie LP klasse 3, opprykk til Elite klasse Rally.
3rd prize class 3 (next highest level), compeeting in Elite class Rally-o.
BLODSPOR / gametracking
NO VCH – norsk viltsporchampion, SE VCH – svensk viltsporchampion, FI VCH – finsk viltsporchampion, NORD VCH – nordisk viltsporchampion.
NO VCH – Norwegian gametracking champion, NV(F)CH – Norwegian tracking champion (wounded deer), SEVCH – Swedish gametracking champion, FI VCH – Finnish gametracking champion, NORD VCH – Nordic gametracking champion.
ANNET / other
Bestått mentalbeskrivelse hund (MH), skudd =1. Klubbmester jakt 2013, 2011. Deltatt på det norske blodsporlandslaget x flere.
Mental description done, shot = 1. Club champion hunting 2013, 2011. Multiple qualifiers for the Norwegian championship and participations in the National gametracking team of Norway.
KULL / litters
KULL 1 / litter 1
04/06/2012
Sire: Jones Juwel vom Lech-Toller Nest
KULL 2 / litter 2
14/10/2014
Sire: Aqueus Hop To It
KULL 3 / litter 3
16/10/2016
Sire: Quill's Cradle of Wilderness
STAMTAVLE / pedigree